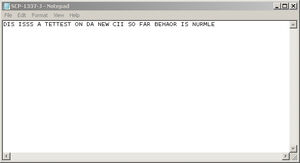 OBJEKT KLESS: ???
Containment
Edit
EGANT [CENSORED] WES TAIPING STUFF O IDK UNTILL HE FAINDS OWT THAT HIS PC WRITES BED GREMMAR INZTED OF G00D.
DESKRIPSHION
Edit
CII-1337-J IZ SUMWET A C0MPUTSHER MADE BY A COMPENIE, WEN U TAIPE G00D,ITZ TEXTE STARTZ GO WTFOMG1337MODE AND CUZ TEXT RETARDATIONS!!111AIDS
TESTE L0G
Edit
D-1337:Hmm, so I just type some stuff?
Doctor [CENSORED]: Yes,do it when you're ready.
D-1337: Sure.
D-1337: Screw this.
Ad blocker interference detected!
Wikia is a free-to-use site that makes money from advertising. We have a modified experience for viewers using ad blockers

Wikia is not accessible if you've made further modifications. Remove the custom ad blocker rule(s) and the page will load as expected.